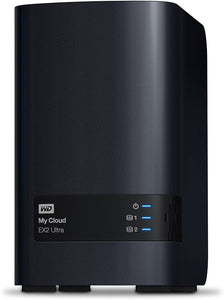 Well it is finally here. I have been looking for a place to store and back up my family pictures as well as important documents such as tax returns and other financial and personal documents so I have been looking into getting my own personal cloud. After a good bit or research I decided to go with the Western Digital EX2. I happened to get the 8TB size but you can chose from a wide array of sizes including getting a bare box and adding your own dives to it. You can find the detail and link to them here:
 https://shop.westerndigital.com/c/nas-and-cloud-storage
The nice thing about the unit was how easy it is to setup and get up an running. This is definitely not a high workload system but much more geared towards the end home/home office user. In addition to the normal local access you can have at home you are also able to setup to look at your files at the MyCloud.com website or you can download the "My Cloud" mobile app. 
As for Specs The unit comes with a Marvell ARMADA 385 1.3GHz dual-core cpu, which is great for performance streaming. It also comes with 1GB of DDR3 memory. The downloadable Plex Media Server keeps all your photos, videos and music beautifully organized and prepared for streaming to your PC, mobile device, ect.
Can do multiple RAID setups and setup the backup however you would like but I setup mine in RAID 1 for more robust redundancy but you have a ton of flexible options. Check out a short video here: https://www.youtube.com/watch?v=fJ8OoShyeck
The software is pretty easy to use and is user friendly. and I'll link the user manual here: (MANUAL) 
If you ever need to replace or upgrade the drives it is a tool less bay less swap and super easy to do. 
I was able to get direct from WD with a discount code that doesn't seem to work anymore bit it was less than $450 in August 2021
Thanks for stopping buy and be sure to check these and other links out and see what sales they may have going on at WD.com https://shop.westerndigital.com/c/weekly-sale