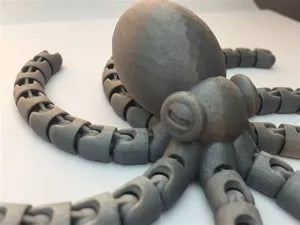 In recent years, 3D printing has become a popular way to create all sorts of products, from machines to jewelry to toys. For kids, 3D printing offers a new world of creative play, providing a unique way to learn and explore. Here, we will explore how 3D printing can be used to create educational toys and games for children.
One of the main benefits of 3D printing is that it allows designers to create custom and unique toys that cater to specific educational goals. For example, a 3D-printed puzzle can be designed to teach spatial reasoning, while a 3D-printed model of the human body can be used to teach anatomy. Additionally, 3D-printed toys can be personalized for individual children, making learning more engaging and fun. Here at Custom 3D Toys we specialize in making impactful and meaningful toys. 
3D printing encourages creativity and innovation in children. By giving kids the tools to design their own toys, they are encouraged to think outside the box and come up with unique and interesting designs. 3D printing also provides a way for kids to see their ideas come to life, which can be incredibly motivating and inspiring.
In conclusion, 3D printing provides a unique opportunity to create educational toys and games for children. With rapid prototyping, custom design, and a focus on creativity and learning, 3D-printed toys are a great way to engage kids in education and play.